Choke Valve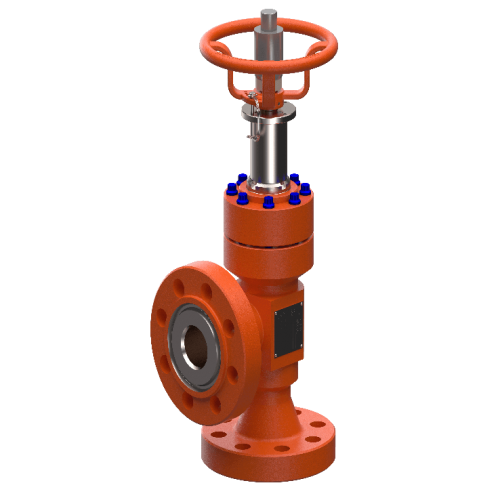 Design Standard
Choke valves are used to control flow rate and reduce pressure for processing of produced fluids farther downstream. Effective chokes reduce the likelihood of damage to downstream equipment, support longer lasting production timespans, and alleviate stress from field operators by keeping them away from the wellhead.
Our chokes are also economical and provide the lowest total cost of ownership in the industry. As a global manufacturer and supplier of chokes for the oil and gas production market, we can provide a fit-for-purpose solution for any application.
Selecting the proper trim for your application and environment is crucial and can help avoid expensive damage such as erosion and corrosion.
Design Features
Pressure balanced design, minimizing torque/thrust loads
Low torque stem packing & sealing system, lower cost for actuation components
Customizable ports to optimize performance
Solid Tungsten Carbide trim standard
Cage with shrink-fit carrier protector
Replaceable outlet wear sleeve
360/24 degree stem locking device standard
Closed yoke protects moving parts
Bolted bonnet design for all sizes
Large trim positioning indicator with sleeve pointer protector in stainless steel
API –M/C (EE-.5), Temp (L/U) as standard
All other API material classes are available
Applications
Oil & gas reserves
Drilling mud lines
It is also used in well service lines for cementing, and acidizing
It can be used at flow lines that operate at high pressure
Types
"A" Series-Angle Body Plug & Cage trim
"EA" Series-Angle Body Disc Style (MOV) Trim
"IC" Series-Inline Side Entry Disc Style (MOV) Trim
"EC" Series-Inline Disc Style (MOV) Trim
"AD" Series-Angle Body External Sleeve Trim
"ICS" Series-Inline Top Entry Disc Style (MOV) Trim
Available Options
Choke valves are available in a wide array of actuator types fully assembled or can be supplied prepared for actuation by others
Our choke valves are versatile for adapting to pneumatic, electric, hydraulic third-party actuators and controls
We can provide fail-closed, fail-open or fail-last actuators
All product we sell is function tested and calibrated
Units can be supplied to meet CSA, UL or Atex certification
The actuator systems we provide have been extensively tested for endurance, superior field performance, reliability, and durability
Shown below are some of the common types of actuation configurations