Magnus Force (Spring-Return)
Size: 52S to 400S & Torque Output 38 to 37164 (in-lbs)
Operating Temperature: Standard seals: -4 °F to 176 ° F
Viton Seals: 5 °F to 248 °F
Silicone Seals: -31 °F to 176 °F
Air Supply Pressure: Minimum air pressure is 30 PSI
Maximum air pressure is 115 PSI
Supply Air: Dry, lubricated or non-corrosive
Dust below 30 microns
Rotation: 90°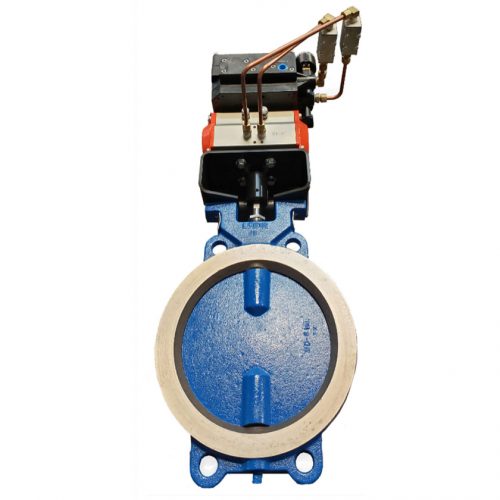 Design Standard
Air from Port A forces the pistons outward, causing the springs to compress and the pinion to turn counter-clockwise while the spring chamber air exhausts through Port B.
Upon the loss of air pressure, the springs de-com- press forcing the pistons inwards, causing the pinion to turn clockwise while the air exhausts through Port A.

Specifications
Size Range:
52S to 400S & Torque Output 38 to 37164 (in-lbs)
Temperature:
Standard seals: -4 °F to 176 ° F
Viton Seals: 5 °F to 248 °F
Silicone Seals: -31 °F to 176 °F
Design Features
1.Indicator
Multi-function position indicator with NAMUR mounting, convenient for mounting accessories such as positioners and limit switches.
2.Pinion
The pinion is made from nickel plated steel and conforms to ISO5211, DIN3337, and NAMUR standards. Also available in stainless steel.
3.Actuator Body
According to different requirements, the extruded aluminum alloy ASTM 6005 body can be coated with hard anodized, polyester, PTFE, or nickel.
4.End Caps
The end caps are made of die-cast aluminum and can be coated with polyester, metal powder, PTFE or nickel.
5.Piston
The twin pistons are made of hard anodized coated die-cast aluminum or zinc coated steel. Reverse rotation is achieved by reversing air input for fast operation and long-life span.
6.Stroke Adjustment
Two independent external travel bolts can accurately adjust +5° at both open and closed position.
7.High Performance Spring
Preloaded springs are made from high quality material for resistance to corrosion and long lifespan. Torque requirements can be adjusted by safely and conveniently changing the quantity of springs.
8. Bearings and Guides
Made from low friction, long-life compound material to avoid the direct contact between metals. Maintenance and replacement are easy and convenient.
9.O-Rings
NBR O-Rings trouble free operation at standard temperature ranges. Viton or silicone options are available for high and low temperature applications.
Applications
Automotive
Chemical
Downstream Hydrocarbons
Food & Beverage
Energy & Onsite Utilities
Life Sciences & Medical
Mining, Minerals & Metals
Water & Wastewater
OEM / Engineered Solutions Providers
Marine
Oil & GAS
Power Generation
Pulp &Paper
Chart or Graph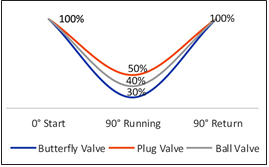 Output Torque for PDC Series Double Acting Actuators (in-lbs)
PDC Series MAGNUS FORCE (in-lbs)
Air Supply Pressure
40 PSI
50 PSI
60 PSI
65 PSI
80 PSI
90 PSI
115 PSI
Spring Output Torque
Model
Spring Qty.
0°
90°
0°
90°
0°
90°
0°
90°
0°
90°
0°
90°
0°
90°
0°
90°
52S
5
50
34
67
50
55
38
52S
6
43
22
61
40
96
75
65
44
52S
7
35
12
53
29
87
65
124
76
52
52S
8
46
18
81
53
117
125
152
125
88
59
52S
9
38
7
73
42
109
113
144
113
180
149
98
67
52S
10
65
32
102
103
137
103
173
138
110
75
52S
11
58
20
94
92
129
92
165
127
200
162
120
82
52S
12
86
81
122
81
158
108
193
151
131
90
63S
5
101
68
133
101
197
132
92
60
63S
6
89
50
120
82
185
147
250
111
73
63S
7
76
32
111
64
173
128
237
129
85
63S
8
96
45
161
110
226
239
290
239
355
304
148
96
63S
9
149
92
213
220
278
220
343
285
166
109
63S
10
124
73
202
202
266
202
330
266
396
331
185
121
63S
11
190
183
254
183
319
248
383
312
203
133
63S
12
177
165
242
165
306
229
371
295
221
145
75S
5
128
94
172
137
261
227
128
93
75S
6
110
67
153
112
243
201
332
154
112
75S
7
92
42
135
86
224
176
313
180
131
75S
8
116
60
204
150
295
327
382
327
472
416
205
150
75S
9
186
125
276
302
364
302
453
391
231
168
75S
10
168
98
255
276
345
276
435
365
523
453
257
187
75S
11
239
250
239
250
416
340
504
428
282
205
75S
12
220
225
220
225
397
313
486
402
307
224
83S
5
206
142
275
212
414
351
204
140
83S
6
178
102
248
171
387
311
526
244
168
83S
7
150
61
219
131
358
270
497
285
196
83S
8
192
89
331
228
470
506
609
506
748
645
326
224
83S
9
303
189
442
466
581
466
719
605
366
252
83S
10
274
147
413
425
552
425
691
564
830
702
407
280
83S
11
386
384
525
384
664
523
802
662
448
308
83S
12
358
344
497
344
635
482
774
621
489
336
Air Supply Pressure
40 PSI
50 PSI
60 PSI
65 PSI
80 PSI
90 PSI
115 PSI
Spring Output Torque
Model
Spring Qty.
0°
90°
0°
90°
0°
90°
0°
90°
0°
90°
0°
90°
0°
90°
0°
90°
92S
5
277
195
391
212
591
495
304
206
92S
6
251
135
350
171
551
434
751
365
248
92S
7
211
73
309
131
509
373
710
426
289
92S
8
277
112
468
312
668
712
868
712
1068
912
487
330
92S
9
427
251
628
651
828
651
1027
851
548
372
92S
10
386
190
586
590
786
590
985
789
1186
990
608
413
92S
11
544
530
744
530
943
729
1144
929
669
455
92S
12
503
469
703
469
902
668
1102
868
730
496
105S
5
451
296
597
442
890
735
435
280
105S
6
396
208
541
354
834
648
1127
523
336
105S
7
340
121
486
268
778
561
1071
610
392
105S
8
429
181
722
474
1015
1059
1307
1059
1600
1352
697
448
105S
9
666
387
959
972
1252
972
1544
1265
784
504
105S
10
610
296
903
882
1196
882
1489
1174
1781
1467
871
560
105S
11
847
797
1139
797
1432
1090
1724
1382
959
616
105S
12
791
713
1084
713
1376
1005
1669
1298
1045
672
125S
5
646
416
867
637
1310
1080
699
460
125S
6
558
274
779
496
1221
947
1664
832
558
125S
7
460
133
682
354
1124
797
1575
974
646
125S
8
593
221
1036
664
1478
1558
1921
1558
2372
2000
1106
743
125S
9
947
522
1390
1407
1832
1407
2275
1859
1248
832
125S
10
850
389
1292
1275
1735
1275
2186
1717
2629
2168
1390
929
125S
11
1204
1133
1646
1133
2089
1575
2531
2018
1531
1018
125S
12
1106
1000
1558
1000
2000
1443
2443
1885
1664
1106
140S
5
1133
752
1513
1124
2266
1885
1142
761
140S
6
982
522
1363
903
2115
1655
2876
1372
912
140S
7
832
292
1213
673
1965
1434
2726
1602
1062
140S
8
1062
443
1814
1204
2576
2717
3328
2717
4089
3469
1823
1213
140S
9
1655
974
2416
2487
3169
2487
3930
3248
2053
1372
140S
10
1505
743
2266
2257
3018
2257
3779
3009
4532
3770
2283
1522
140S
11
2106
2027
2868
2027
3620
2779
4381
3540
2514
1673
140S
12
1956
1797
2717
1797
3469
2558
4231
3310
2744
1823
160S
5
1708
1097
2292
1690
3469
2868
0
1841
1239
160S
6
1460
735
2053
1319
3231
2496
4408
2213
1487
160S
7
1213
363
1797
947
2974
2124
4151
2584
1735
160S
8
1558
584
2735
1761
3912
4116
5089
4116
6266
5293
2947
1974
160S
9
2478
1390
3655
3744
4833
3744
6010
4921
3319
2222
160S
10
2239
1018
3416
3372
4594
3372
5771
4549
6948
5726
3691
2469
160S
11
3169
3009
4346
3009
5523
4186
6700
5364
4054
2717
160S
12
2921
2638
4098
2638
5275
3815
6452
4992
4425
2965
Air Supply Pressure
40 PSI
50 PSI
60 PSI
65 PSI
80 PSI
90 PSI
115 PSI
Spring Output Torque
Model
Spring Qty.
0°
90°
0°
90°
0°
90°
0°
90°
0°
90°
0°
90°
0°
90°
0°
90°
190S
5
2938
1965
3877
2912
5762
4797
2735
1770
190S
6
2584
1425
3523
2363
5408
4248
7293
3284
2124
190S
7
2230
876
3169
1814
5054
3700
6939
3832
2478
190S
8
2815
1266
4700
3151
6585
6921
8470
6921
10347
8806
4381
2832
190S
9
4346
2611
6231
6373
8116
6373
10001
8258
4930
3186
190S
10
3992
2062
5877
5824
7762
5824
9647
7709
11524
9594
5470
3540
190S
11
5523
5284
7408
5284
9293
7160
11178
9045
6019
3894
190S
12
5169
4735
7054
4735
8939
6620
10824
8497
6567
4248
210S
5
3452
2522
4629
3700
6983
6054
3363
2434
210S
6
2965
1850
4142
3027
6496
5381
8851
4036
2921
210S
7
2478
1177
3655
2354
6010
5594
8364
4709
3408
210S
8
3169
1682
5523
4036
7877
8745
10231
8745
12586
11099
5381
3894
210S
9
5036
3363
7390
8072
9745
8072
12099
10426
6054
4381
210S
10
4549
2691
6904
7399
9417
7399
11612
9754
13966
12108
6727
4868
210S
11
6417
6727
8771
6727
11125
9081
13480
11435
7399
5355
210S
12
5930
6054
8284
6054
10639
8408
12993
10763
8072
5841
240S
5
4886
3620
6585
5310
9992
8718
4903
3629
240S
6
4160
2629
5505
4328
9267
7736
12674
5886
4355
240S
7
3434
1655
5133
3354
8532
6762
11940
6859
5089
240S
8
4408
2372
7815
5780
11214
12586
14621
12586
18029
15993
7842
5806
240S
9
7081
4797
10488
11603
13887
11603
17294
15011
8833
6541
240S
10
6355
3815
9762
10630
13170
10630
16569
14037
19976
17436
9807
7266
240S
11
9037
9647
12444
9647
15852
13046
19259
16454
10789
7992
240S
12
8311
8665
11710
8665
15117
12064
18525
15471
11771
8718
270S
5
7992
5974
10577
8568
15745
13736
6966
4956
270S
6
6992
4594
9585
7178
14754
12356
19932
8346
5948
270S
7
6010
3195
8603
5788
13772
10957
18949
9745
6930
270S
8
7612
4399
12780
9568
17958
19932
23136
19932
28314
25101
11134
7921
270S
9
11789
8169
16967
18533
22145
18533
27322
23702
12533
8913
270S
10
10798
6789
15976
17144
21153
17144
26322
22313
31509
27499
13913
9904
270S
11
14984
15745
20162
15745
25331
20923
30517
26101
15312
10895
270S
12
14002
14365
19180
14365
24348
19534
29526
24711
16701
11878
300S
5
9709
6452
9391
6461
300S
6
8275
4372
11648
7744
11267
7753
300S
7
6833
2283
10205
5656
16958
12409
13143
9045
300S
8
8771
3567
15524
10267
22277
15020
10338
300S
9
14090
8231
20844
21737
27597
21737
16896
11630
300S
10
12657
6151
19410
19658
26163
19658
32916
26411
39669
33164
18781
12922
300S
11
17967
17569
24720
17569
31473
24322
38226
31075
20658
14214
300S
12
16533
15480
23286
15480
30039
22233
36793
28986
22534
15507
Air Supply Pressure
40 PSI
50 PSI
60 PSI
65 PSI
80 PSI
90 PSI
115 PSI
Spring Out- put Torque
Model
Spring Qty.
0°
90°
0°
90°
0°
90°
0°
90°
0°
90°
0°
90°
0°
90°
0°
90°
350S
5
13745
8532
15064
10382
350S
6
11435
5187
16489
10240
18082
12462
350S
7
9125
1841
14179
6895
24295
17011
21091
14533
350S
8
11869
3549
21985
13666
32093
24109
16613
350S
9
19684
10311
29526
30526
39899
30526
27119
18693
350S
10
17374
6966
27482
27181
37589
27181
47706
37297
57813
47405
30137
20764
350S
11
25172
23835
35279
23835
45395
33951
55503
44059
33146
22844
350S
12
22870
20481
32978
20481
43094
30597
53202
40705
36253
24924
400S
7
17949
7691
25490
16259
400S
8
15365
3638
22569
10842
29137
18587
400S
9
19994
6797
34403
21206
32774
20905
400S
10
17409
2753
31818
17162
46227
36421
23224
400S
11
29234
13117
43643
41935
58052
41935
40058
25552
400S
12
26658
9072
41067
37890
55477
37890
69877
52290
84286
66699
43705
27871
400S
13
38483
33836
52892
33836
67292
48237
81701
62646
47343
31571
400S
14
35907
29792
50317
29792
64717
44192
79126
58601
50989
27526
400S
15
33323
25747
47732
25747
62132
40147
76524
54556
54627
23481
400S
16
21702
45148
21702
59548
36102
73957
50511
58273
37164
Downloads