Combustion Valve - Series: 22
Size: 2" thru 14" for 125/150 lb. Flanging
Maximum Differential: 1 psig.
Maximum Containment: 25 psig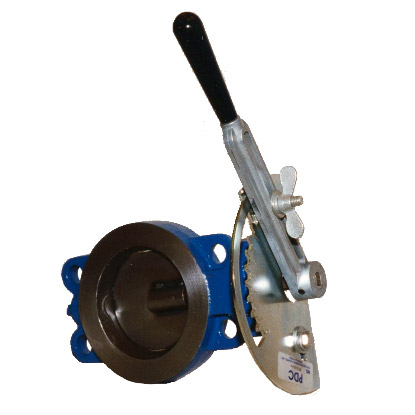 Design Standard
The PDC Series 22 Combustion Valve is a cost effective, manual, wafer style butterfly valve designed for use in low pressure, low cycle ("set -and-forget") applications. It is designed for use in temperatures up to 900°F Maximum with differential pressures not to exceed 1 PSIG. The valve is designed with appropriate clearances in the disc for combustion installations. These applications are typically :"Hot" or "Cold" lines of air or combustible gases that require High-Low or Modulating flow control.
Specifications
Size Range:
2" thru 14" for 125/150 lb. Flanging
Pressure Rating:
2 PSI (.1 Bar) max
Design Features
Lightweight, solid ring, wafer design for ease of installation. Four holes to insure proper alignment without transfer of pipe stresses to the valve body.
PDC's Combination 10 Position/Infinite Throttling & Locking Lever Assembly offers both types of the most commonly requested manual actuators in one unit.
Adjustable packing – Graphited TEFLON ® Braid for "Cold" (up to 450°F) applications – Graphited Glass Yarn Reinforced with Inconel Wire for "Hot" ( up to 900°F) applications.
Valves can be repacked without removal from the line.
Inboard bronze bushing on "Cold" (up to 450°F) applications and "metallized" carbon bushing on "Hot" (up to 900°F) applications are designed for long life, nonfreezing, low torque characteristics.
Applications
Blower Equipment
Compressor Equipment
Boiler Equipment
Environmental Systems
V.A.C
Industrial Process Furnaces
Oil Gas/Refining
Power Generation/Co-Generation
Water & Sewage
Stationary Engines
Chemical Equipment
Mining Equipment
Gas Recovery Systems
Standard Materials and Seat Construction
| | Cold (450°) | Hot (900°) |
| --- | --- | --- |
| Body: | Cast Iron | Cast Iron |
| Disc: | Carbon Iron | Carbon Iron |
| Shaft: | 416 Stainless Steel | 316 Stainless Steel |
| Seat: | Swing-thru, Paddle Disc | Swing-thru, Paddle Disc |
| Bushing: | Graphited Bronze | Metallized Carbon |
| Packing: | Graphited Teflon | Graphited Yarn Reinforced with Iconoly |
| Packing Nut: | Brass | 316 Stainless Steel |
Optional Materials and Seat Construction
| | |
| --- | --- |
| Body: | Cast Iron |
| Disc: | Cast Iron |
| Shaft: | 316 Stainless Steel |
| Seat: | Swing-thru |
| Bushing: | Metcar |
| Packing: | High Temp Packing |
| Packing Nut: | 316 Stainless Steel |

Valve Body
Valve Disc
Power End Shaft
Inboard Bushing
Packing
Packing Nut
Pin
Pipe plug
Chart or Graph
Dimensions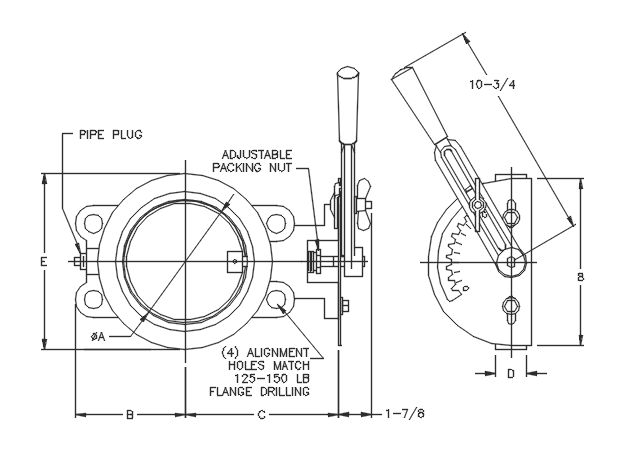 VALVE SIZE
Valve Related Dimensions
Assembly Number
A
B
C
D
E
2"

221-017-000-ZZ

2

2-3/4

5-3/8

1-1/2

3-7/8

2.5"

221-027-000-ZZ

2-1/2

3

5-5/8

1-1/2

4-5/8

3"

221-037-000-ZZ

3

3-1/8

5-7/8

1-1/2

5-1/4

4"

221-047-000-ZZ

4

4-1/4

6-3/8

1-1/2

6-3/8

5"

221-057-000-ZZ

5

4-7/8

6-7/8

1-1/2

7-1/2

6"

221-067-000-ZZ

6

5-3/8

7-3/8

1-1/2

8-9/16

8"

221-077-000-ZZ

8

6-1/2

8-3/8

1-1/2

10-3/4

10"

221-087-000-ZZ

10

8

10-5/8

1-7/8

13

12"

221-097-000-ZZ

12

9-1/2

11-5/8

1-7/8

15-1/4

14"

221-107-000-ZZ

13-1/8

10-1/2

12-1/8

1-7/8

16-3/8
Cv Values
(Flow in GPM of 60°F water at 1 psi pressure drop, specific gravity=1)
VALVE SIZE
DISC ANGLE, DEGREES
10
20
30
40
50
60
70
80
90
2"
2
5
12
21
36
51
67
87
95
2.5"
4
8
21
36
59
88
132
187
204
3"
6
15
32
54
89
139
212
293
389
4"
14
29
57
103
167
270
411
578
784
5"
22
45
92
166
278
450
668
959
1,336
6"
32
66
132
239
401
664
1,003
1,439
2,099
8"
56
117
236
426
714
1,181
1,783
2,721
4,046
10"
87
183
369
667
1,116
1,847
2,788
4,255
6,679
12"
126
265
531
960
1,608
2,660
4,017
6,127
9,622
14"
150
317
636
1,151
1,927
3,187
4,813
7,342
11,530
Materials of Construction
| | 450° F Service | 900° F Service |
| --- | --- | --- |
| Components | ZZ=00 | ZZ=28 |
| Body: | Cast Iron | Cast Iron |
| Disc: | Carbon Iron | Carbon Iron |
| Shaft: | 416 Stainless Steel | 316 Stainless Steel |
| Bushing: | Graphited Bronze | Metcar |
| Packing: | Graphited Teflon | High Tempaerature |
| Packing Nut: | Brass | 316 Stainless Steel |
Downloads