Triple Offset
Size: 2" to 48" (Larger size available on request)
Operating Temperature: 550° C (Above 550° C available on request)
Pressure Rating: As per 150# B16.34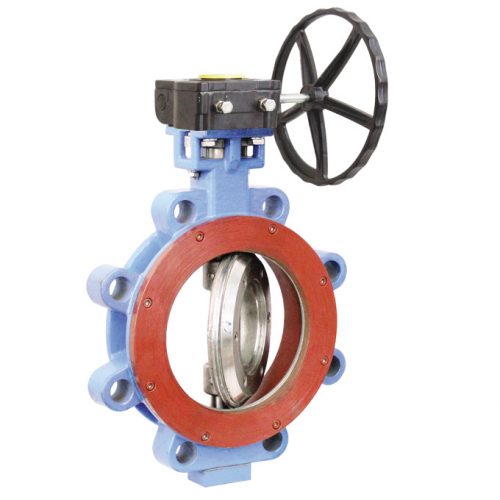 Design Standard
The "Triple Offset" butterfly valve is available in a variety of both ANSI and PN classes, sizes and configurations.
Triple Offset Butterfly Valves are suitable for both throttling and positive isolation applications. These valves can control bidirectional flow, have zero leakage, low fugitive emissions, and work in steam-based applications up to 1022° F (550° C).
The triple offset sealing system allows the disc to move smoothly and frictionless along the specially designed body seat & disc seal. When the disc is closed, the seal ring (on the disc) energizes the seat (on the body), providing a snug-tight, high-performance fit. The laminated seal is constructed with grafoil layers sandwiched between metal laminations. This resiliency of the seal flexes and energizes according to the compressive forces generated and allows for minor body deformations due to temperature fluctuations without the risk of jamming. This provides a uniform "snap-in" effect and ensures bubble-tight shut-off.
Specifications
Size Range:
2" to 48" (Larger size available on request)
Temperature:
550° C (Above 550° C available on request)
Face to Face:
API 609 Category "B"
Body Material:
WCB/CF8/CF8M
Stem Material:
304/316/410 /17-4PH SS
Seat:
Viton/PTFE/EPDM/304+Graphoil
End Connection:
Wafer (3" to 24")
Lug type (3" to 24")
Flanged (3" to 24")
Operating:
Hand lever, Worm Gear Box
Design and Manufacturing:
API 609 / BS EN 593/AWWA C504
Inspection and Testing:
API 598/ BS EN 12266/AWWA C504/ISO 5208
Flange Standard Conformity:
ANSI B16.5/150, 300 class/BS 4504/AWWA C207
Top Mounting Standard:
ISO 5211
Leakage Class:
ASME B16, 16.104 Leakage Class VI
Design Features
Metal to metal sealing
Triple offset for quarter-turn design
Torque seated
More torque = More tightness
Bi-directional tight shutoff
Zero leakage compared to API 598
Speed of Operation: Variable closing speed as required
Non-rubbing rotation seating
No jamming
No cavities
Space & Weight saving compared to gate valves and ball valves
Inherently fire safe and fire tested
Less maintenance
Control capability
Applications
Process fluids
Hydrocarbons
Steam/Geothermal steam
Hot gas/Sour gas (NACE)
Blow down
Sulfur recovery
Acid, Caustic, Chloride
Abrasive service
Chart or Graph
VALVE TORQUE 150#
VALVE SIZE
5 Bar
10 Bar
20 Bar
MM
Inch
N-m
N-m
N-m
50
2″
11
15
21
65
2-1/2″
20
28
38
80
3″
38
43
63
100
4″
50
58
80
125
5″
73
100
144
150
6″
113
144
181
200
8″
175
219
350
250
10″
294
331
375
300
12″
400
450
625
CV Values
VALVE SIZE
10°
20°
30°
40°
50°
60°
70°
80°
90°
MM
Inch
50
2″
2
5
11
19
28
41
58
77
85
65
2-1/2″
2
9
20
28
45
60
80
120
130
80
3″
3
10
22
42
64
96
150
157
160
100
4″
6
17
41
75
116
174
273
284
290
125
5″
6
45
75
170
280
478
650
707
795
150
6″
7
51
119
221
340
510
799
833
850
200
8″
4
103
239
445
684
1026
1607
1676
1710
250
10″
50
151
353
655
1008
1515
2369
2470
2520
300
12″
79
236
552
1024
1576
2364
3704
3861
3940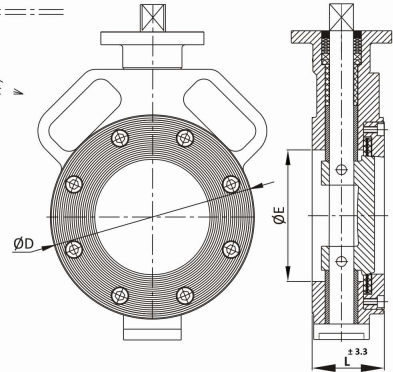 Dimensions are in mm
VALVE SIZE
L
ØE
ØD
MM
Inch
50
2″
47
50.8
95
65
2-1/2″
52
61.6
108
80
3″
52
72
127
100
4″
57
100
159
125
5″
60
123
186
150
6″
60
143
217
200
8″
67
192
270
250
10″
72
239
322
300
12″
75
290
382
Dimensions are in inch
VALVE SIZE
L
ØE
ØD
MM
Inch
50
2″
1.88
2.032
3.8
65
2-1/2″
2.08
2.464
4.32
80
3″
2.08
2.88
5.08
100
4″
2.28
4
6.36
125
5″
2.4
4.92
7.44
150
6″
2.4
5.72
8.68
200
8″
2.68
7.68
10.8
250
10″
2.68
9.56
12.88
300
12″
3
11.6
15.28