Scotch Yoke (MSS)
Size: Torque of 5K to 800K in-lbf
Operating Temperature: -13°F to 158°F (-25°C to 70°C)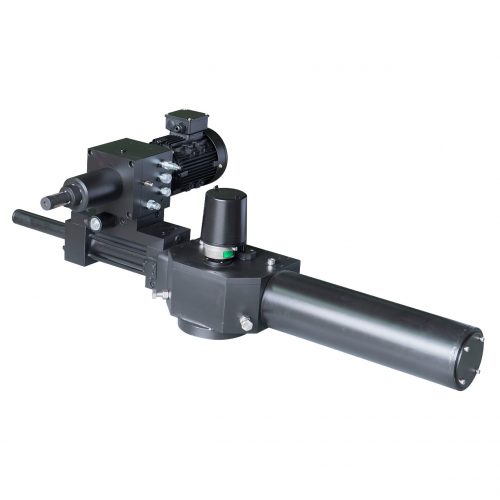 Design Standard
The MS Series Electro-Hydraulic actuator by PDC LLC is the ideal product for any general service on/off application, with fail safe options available, if desired. Consisting of a self-contained, bi-directional motor driven pump with an integral hydraulic cylinder and mechanical drive modules.
The MS Electro-Hydraulic's modular design allows you to choose the best combination for your service conditions. Consisting of a mechanical drive, a control box with a choice of optional Feedback and optional Fail-Safe configuration if desired.
The actuator assembly is installed on the driven device, while the control box can be attached to the actuator assembly or remotely. Connections are then made with cables. The control box offers local command of the driven device as well as from a remote location.
As a full-featured, self-contained actuator the general service MS Electro-Hydraulic actuator supplies various input and output capabilities which include:
Inputs
Remote – two contact input; open/close with intermediate positioning
Local – open/close/stop push buttons stroke control
Outputs
Limit Switches – mechanical; end-of-travel only
Alarm Relay – signifies when the unit is unable to follow the control signal
Position Transmitter – 4 to 20 mA (Optional)
Specifications
Size Range:
Torque of 5K to 800K in-lbf
Temperature:
-13°F to 158°F (-25°C to 70°C)
Supply Voltage:
208/220/240/380/400/415/440/480V, 3Ph, 50/60Hz
Motor:
1 Horsepower to 4 Horsepower
Enclosure:
NEMA 4, 4X or explosion proof
Service:
Open/Close, Fail Safe (Optional)
Design Features
Electrically Powered Self-Contained Hydraulic Actuator
Can be mounted in any orientation
Optional Spring Fail Safe
Optional Accumulator Fail Safe
Closed Circuit Hydraulic System
Linear Series
Rack and Pinion Series
Scotch Yoke Series
Optional 4 to 20 mA Valve Position Feedback
Modular Design
Vibration Resistance
Discrete Operation: Motor and pump only run when motion is needed
Optional ability to open or close the valves multiple times when the main power supply is lost
Actuators can also be provided that can open or close the valves multiple times even if the main power supply is lost.
Applications
Oil and Gas Pipeline Valves
Tank Farm Pipeline Valves
Chemical Pipeline Valves
Power Plant Pipeline Valves
Metallurgical Process Pipeline Valves
Sludge Line to Filter Press
Influent Valve
Backwash Valves
Altitude Valve
Chart or Graph
MSS Scotch Yoke Cylinder Series Actuator
Nominal Torque
Hydraulic Closing Torque (in-lbf)
Stroke Speed (90°/sec @ 50HZ)
Start (0°)
Mid (45°)
End (90°)
D
E
F
G
5K
5,232
3,078
5,232
5
NA
NA
NA
10K
10,465
6,156
10,465
5
NA
NA
NA
20K
21,923
12,896
21,923
12
8
NA
NA
50K
52,791
31,053
52,791
26
17
8
6
100K
107,062
62,977
107,062
45
28
13
10
200K
212,106
124,768
212,106
NA
60
28
21
400K
462,823
272,149
462,823
NA
NA
57
42
800K
850,777
500,457
850,777
NA
NA
NA
77
MSS Scotch Yoke Cylinder Series Actuator with Optional Spring Fail Safe (F.S.) function
Nominal Torque
Hydraulic Closing Torque (in-lbf)
Hydraulic Opening Torque (in-lbf)
Spring Emergency Shuthown Torque (in-lbf)
Power Module Stroke Speed (90°/sec @ 50HZ)
Start
(90°)
Run
(45°)
End
(0°)
Start
(0°)
Run
(45°)
End
(90°)
Start
(90°)
Run
(45°)
End
(0°)
D
E
F
G
F.S.
5K
8,349
4,171
5,833
5,078
2,198
2,395
5,781
2,513
2,762
6
NA
NA
NA
<1
10K
13,813
6,869
9,541
8,657
3,752
4,099
9,514
4,088
4,387
6
NA
NA
NA
<1
20K
31,818
15,943
22,388
19,961
8,783
9,902
21,741
9,460
10,425
13
8
NA
NA
<1
50K
68,628
34,890
49,999
41,678
18,672
21,807
46,725
20,910
24,370
27
17
8
6
<1
100K
125,536
62,520
87,032
78,441
34,062
37,370
86,415
37,243
40,210
45
28
14
10
<1
200K
277,945
132,469
172,541
186,127
76,419
73,696
194,720
77,340
68,235
NA
61
29
21
<1
Downloads